Sphere Set
Product Description
Our beautifully handcrafted 3.50 oz bath bombs are a great addition to your well deserved relaxation rituals. Our bath bombs are made to order. As such, each order contains (3) bath bombs. Use all three or treat your friends and family. Makes excellent stocking stuffers, teacher gifts, or an addition to an already thoughtful gift.
Simply break up the bath bomb or drop the whole bomb into your bath water. As it fizzes and dissolves, it will release the beautiful fragrance and skin softening agents into the water.
Ingredients: Sodium Bicarbonate, Citric Acid, Corn Starch, Epsom Salt, Sweet Almond Oil, Witch Hazel, Fragrance Oil, and colorant.
Your set will consist of three spheres of the same fragrance and coloring.
Each bath bomb is individually shrink wrapped. We then package them in a clear plastic bag, tied with a beautiful ribbon, and our individualized hangtag.
The clear plastic bag makes it convenient for those who prefer to break up the bath bomb for more than one use.
Caution: Please be careful entering and exiting your tub. The contents in this bathbomb can leave your tub slippery. It is suggested that after the water is drained to quickly rinse your tub.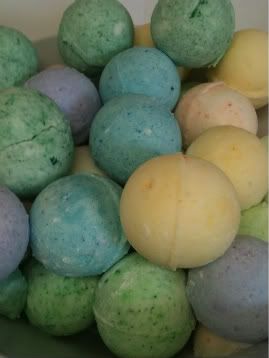 customerservice@bamboo-jade.com